Robotics is a division of SPG created, as we have often heard, in response to a need. In this case, it was created when IML Solutions joined SPG (Solutions Plastic Group), created to deliver high-level technical solutions and rapid implementation, harnessing the power of its diverse fleet of robots to increase production efficiency.
Specialized in IML processes, Robotics is the department in charge of automation, yet it provides a tailor-made solution to any type of industrialization process using the best type of robot for each individidual case.
We could go on endlessly about robotics, but today we'd like to focus on the types of robots SPL offers for injection process integration and automation.
Our catalog clearly differentiates between 3 types of robots:
Hybrid robots
Side-entry robots
Cartesian (or linear) robots
But, what purpose does a robot serve in an IML process?
It very simple to explain. Every IML process starts with the same requirements: a mold, an injection machine and a label. It is only when these three components are integrated into a single production that things become more complex.
Simplifying and briefly summarizing the process, what we do is introduce the label into the mold cavity, perform a "conventional" injection process, later removing the piece from the mold and moving it to a conveyor belt or packaging it in a box or pallet – whatever is required for each individual project. Integrating a robot is crucial when it comes to automating this process. Let's take a closer look at how each of SPL's robot types works:
Hybrid Robots:
These robot integration systems offer versatility combined with medium-to-fast cycle times.
These types of robots make it possible to quickly change products while also providing outstanding versatility as the result of designs that can incorporate 3, 4 and 6 axes. Combined with servo-motorized arms, hybrid robots can perform a variety of 3D movements in order to reduce cycles by minimizing initial runs. They integrate highly precise label-sorting robots to ensure quality and reduce losses, incorporating 360º vision systems for excellent quality control.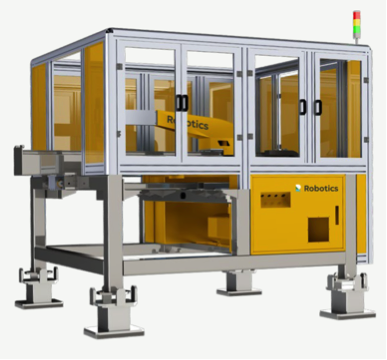 Side-entry Robots:
This type of system combines ultra-fast cycles with reliable performance and minimum maintenance, making them perfect for high production volumes. These systems are 100% personalized, which optimizes production by reducing the work the equipment requires.
One of the great advantages is the option of adapting these robots to multi-cavity systems, stack molds and even high-speed electronic picking.
Ultra-fast cycles are initially achieved by considering the end-to-end system from the start, incorporating systems like linear servos, which also require minimal maintenance, as well as hand movements using servos.
These types of robots can work at speeds of less than 2 seconds, making them an extremely competitive choice for IML systems.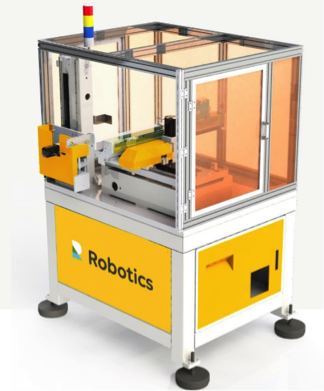 Cartesian (Linear) Robots:
These are perhaps the most common types of robots in the plastics industry, the type usually found in factories, and the reason is simple: they are the best solution for labeling larger pieces and for a series of standard injection work cycles.
This isn't to say they are an inferior option, but rather that they are different and perfectly applicable for executing less specific projects or those with a lower work-cycle requirement.
Their price point is more affordable than other types of processes because they use simpler movements and tasks, although this type of robot is the most versatile on the market, used for a full range of processes due to their easy programming, low maintenance and proven reliability and performance.
The latest generation of IML robots offers outstanding movement and position precision for highly repetitive and robust processes that fully harness maximum load and speed. These robots have a rack-and-pinion transmission (without belts), double guides on the axles, single storage for multiple products and, as mentioned, are extremely easy to maintain.
Cartesian robot systems also include casting extraction systems, commonly called "pickers". These are extremely effective for cold casting molds, which do not require sorting and can fall directly onto a belt or into a box without any automation. The great advantage of this type of robot is the speed at which it works: cycles can be as short as 4 seconds or less. It is also easily programmed, requires little maintenance and come at a very affordable price.